Posted on Wednesday, 17ᵗʰ June, 2020
Food wastage is a hot topic right across the hospitality industry. NSW food businesses throw away almost one third of their food. The NSW Aged Care sector alone generates a massive 15,230 tonnes of food wastage per year at an estimated cost of $1,000 per week per facility. The total annual cost of food wastage to the Australian economy is estimated at $20 billion dollars. The National Food Waste Strategy was developed in 2018 with the goal to halve Australia's food waste by 2030.
Reducing food wastage is important for cost savings but the issue is much bigger than that - it's also important for creating a better world.

Sarah Chen of the NSW Department of Planning, Industry and Environment's Love Food Hate Waste Program (LFHW) is heading a new reduction initiative called "Your Business is Food" which she's piloted in seven Aged Care facilities between Oct 2018 and June 2019. The pilot explored where food is wasted across the services and delivered some surprising results.

Anglican Care has 12 sites and two community-based centres across NSW. Four sites including Central Kitchen at Boolaroo conducted a two-week, pilot reduction review. After weighing the food sent out by production units and leftovers at the sites, the audit helped them identify where the food was being wasted and opportunities to halve their waste with a few simple actions.
Feedback on the pilot has been positive.
The review was simple to follow and easy to implement. Staff were enthusiastically involved in weighing food and beverage quantities, and in diverting as much waste as possible from landfill. There was a genuine desire to contribute to the protection of our environment.
To learn more about the case study, watch the video here.

The following strategies were found to be simple and effective in reducing food waste and in meeting additional needs of residents:
Altering mealtimes to be more suitable for residents' preferences.
Shorter order timeframes (on the day or at the table).
Reducing portion control and pre-packaged products, increasing fresh portion production as required.
Reviewing portion sizes on the plate and in the glass.
Seal and date food once it has been opened.
Conduct regular staff training.
In terms of dollar figure savings, it is too early to tell but the pilot identified that savings are made both at the purchasing and disposal points in the process.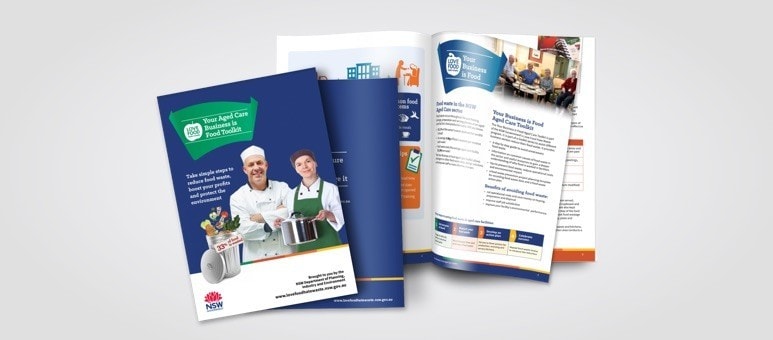 As a result of the pilot, the LFHW team has developed a Your Business is Food Aged Care Toolkit to guide facilities through the review process.
The toolkit breaks the process down into five simple stages, with step-by-step instructions and lots of handy tips:
Get everyone on board.
Measure your waste.
Develop an action plan for reducing waste in your facility.
Celebrate your successes.
Food donation and recycling.
The toolkit also includes:
A Sign-up Form so you can get your facility involved, Food Waste Data Collection Sheets (for the servery kitchen, preparation kitchen and production kitchen).
Action Plan sheet.
All you need to get started is a pen and set of scales! Jump in and make a difference. Be part of the movement taking action to protect our environment and help cut your Aged Care facility operating costs at the same time. It's a win-win!