Take a look at some ideas, inspiration and recipes for a Mexican-themed event at your Aged Care centre or retirement village.
The sights, sounds and flavours of Mexico are known world-wide for inspiring fun and festivity. With a unique culture, this Central American destination is celebrated because of its bright decorations, sensational music and delicious dishes.
Host a Mexican-themed event at your Aged Care facility and have a fiesta like there's no mañana. Here are some ideas for food and decorations.

Key dates in the Mexican calendar
The Mexican Calendar is packed with public holidays and significant dates so if you are seeking a reason to hold a Mexican event, there are plenty.
The 5th of February is Constitution Day in Mexico, an annual holiday celebrated with festivals, picnics, music concerts, and street celebrations.
The Christian population in Mexico marks Easter at the same time as we do in Australia, referring to it as 'Holy Week'. The school holidays coincide with this period and most towns will hold religious processions and have firework displays.
Independence Day in Mexico is celebrated on September 16th, with fireworks, parties, food, dance and music.

Mexican party decorations
Setting a room up with a Mexican theme requires a rainbow of colours. Choose bold reds, pinks, yellows, oranges, blues and purples. Encourage your guests to wear something colourful to match the theme.
Colourful bunting is an easy way to bring a Mexican theme to life, as are brightly coloured flowers (real or fake). You can add a cut-out cactus or two and a few sombreros to bring the party atmosphere to life.
Someone from your facility may have a striped Mexican blanket brought home as a souvenir from Mexico, which they can bring in for the event.
A Pinata can be another fun decoration, however this requires a lot of force to break through so consider what residents are capable of before setting it as a challenge to those in attendance. It may be more suitable to an event which welcomes family members and children.

Mexican food ideas
We all think of tacos, burritos and fajitas when it comes to Mexican food, not to mention tequila! 
These dishes may be challenging to serve up to ageing residents in their traditional forms but there are plenty of alternatives and variations which can still incorporate the theme. Finger food and less chewy dishes will be a hit.

Guacamole served on mini savoury pancakes
Soft fish with tomato salsa and couscous
Shredded chicken with vegetables
Multi-layer Mexican dip
Soft tortilla tacos
Mexican spiced black bean and tomatoes
For dessert, churros are a popular Mexican dish. Similar to donuts, these are straight instead of round and are served with warm chocolate for dipping. As an alternative, you could try chocolate eclairs, which have a similar shape and texture.
When it comes to drinks, margaritas are the traditional beverage to enjoy. You can present this in a 'virgin' form by serving lemonade with freshly squeezed lemon or lime. Other drink ideas include mock Sangria (mix soda water, orange juice and grape juice), or a virgin Pina Colada made with pineapple juice and coconut milk, and garnished with a glacé cherry (this is not quite Mexican but the colour and taste will fit the bill).
Bring plenty of flavour to your dishes but beware of using too many jalapenos or corn chips. These can be difficult for older residents to chew and digest.
A Mexican fiesta can be held any time of year. Your residents and their families will be excited to say Hola! to a good time.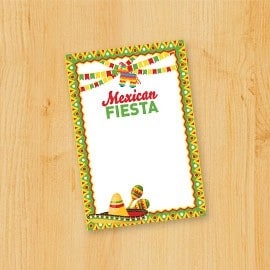 Create a special menu
Share the festivities with your residents. Download a free Mexican Fiesta menu poster.
Download now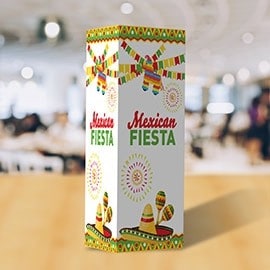 Display a special menu
Make your dining setting special. Download a free Mexican Fiesta table talker.
Download now