If you ask any Aged Care resident what they treasure most in their life, the response is likely to be 'Family', 'Friendships', and all the many happy memories and events celebrated with their loved ones with food as the centrepiece. 
A ground-breaking Harvard study tracking hundreds of people's happiness levels since 1938 (almost 80 years) found the happiest people were not the wealthiest, smartest or best looking. Happiness, the study found, was the result of social wellbeing, embracing the community and having close relationships at every stage of life![i] The researchers discovered close ties with others are better predictors of long and happy lives than social class, IQ, or even genes. Researchers also found that those with strong social support experienced less mental deterioration as they age.

Renowned researchers Dr. John Rowe and Dr Robert Kahn, who wrote the influential and widely applied concept of Successful Aging (1997), found it is our chosen lifestyle factors such as having meaningful engagement with life, a healthy diet, regular exercise and mental stimulation that were the keys to a positive experience and vitality in later life. They debunked the myth that our genes had a strong influence on how a person ages.[ii]

Rowe and Kahn's model views "better than average" ageing as a combination of three components:
Avoiding disease and disability,
High cognitive and physical function, and
Engagement with life. [iii]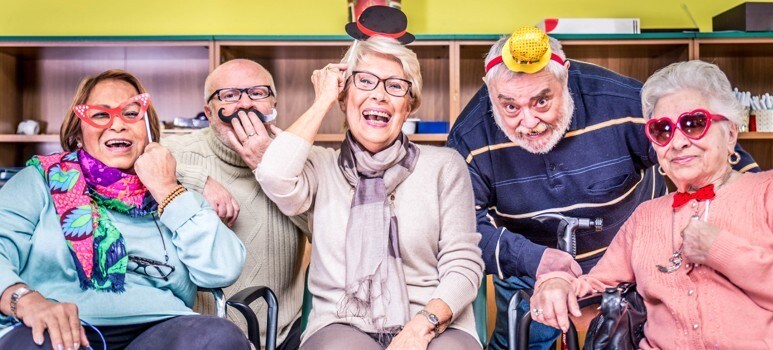 As a resident's physical and cognitive abilities decline, or they experience disease and disability, the third successful aging factor of 'engagement with life' becomes even more important. This is why a visit from a friend, participation in a group activity or favourite food can really make a resident's day.
In a Residential Aged Care setting, celebrating birthdays, anniversaries, cultural events and special occasions is one simple, yet priceless way older people can have meaningful engagement with life. Special events and celebrations usually have one thing in common: food.

If a favourite dessert can brighten a resident's afternoon, a beautifully-decorated birthday cake topped with a festival of candles, a dining room filled with streamers and smiling family, fellow residents and staff can bring enough joy to last a whole week. 

Declining cognitive and physical health should not diminish a resident's involvement in special events. As Rowe and Kahn's model for Successful Aging suggests, looking forward to an upcoming special event may have an encouraging effect on a resident's wellbeing and ability to participate.   

Celebrating major milestones such as 90th or 100th birthdays is not just another birthday. Coming together as a community to mark such a special event is treasured by everyone.

Father's Day, Mother's Day, Christmas, New Year's Eve and even Melbourne Cup Day or Australia Day can be a wonderful life-enriching experience for residents, made special with party food, festive drinks, and of course, cake.

Lynne McKee, Hotel Service Manager from the Baptist Care Maranoa Centre in Alstonville doesn't just wait for a special occasion to make a day an event to remember. She hosts cultural luncheons to celebrate the diverse heritage of residents, and food plays a major role in creating an inclusive community. "We've had a Greek Baklava, German strudel French Crepe Suzette and an Indian Rice Pudding with Saffron Honey Pears & Cashews," McKee explains.  

Aged Care Chefs can really influence the quality of life and meaningful engagement experienced by residents by marking special events with a cake, and meals with favourite foods. It only takes a little bit of forward planning and communication with family and other residents about what matters most and what food or drink will make it a celebration to treasure.

Our event inspiration section is filled with ideas and tips for events your residents will love.