Posted on Friday, 20ᵗʰ March, 2020
The way people with dementia are helped in Aged Care has changed dramatically over the past decade. People like dementia consultant Sandra Gilbert continue to research and understand what dementia is and create real-life strategies to make life manageable for those with dementia and those caring for them.
When it comes to food and the dining experience Sandra's foundation belief is: "dementia residents must be set up to succeed, and not for mealtimes to become a battlefield."
What she means by this is for food creation, service, and the dining experience to be structured around a dementia resident's specific needs. This is a tactic she has found makes life easier for everyone - and has the added benefit of increasing food intake by the resident and reducing episodes of difficult behaviour.
In fact, difficult behaviour can be a strong indication something needs to be changed so the person can easily succeed at the task.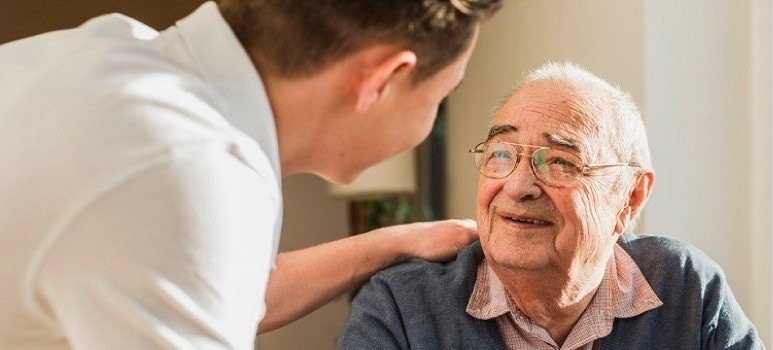 Few people – at any age – can anticipate what they would like to eat for dinner in the future. Most of us like to choose what to eat close to the time we are going to eat it. Frequently, our decisions are influenced by what we see and smell around us when we are hungry.
So without changing your menu, you can easily allow your residents to choose what to eat at the time they are going to eat it, as you would in a restaurant – and if, for example, the dining room is filled with the wonderful aroma of baked chicken, then it is likely the roast chicken dish would be a popular choice.


For many people with dementia, mealtimes can be quite distressing so finding ways to avoid any kind of stress will help these residents feel calmer, be more inclined to develop an appetite and feel supported.
Adopting a less structured grazing style approach to food can help dementia residents enormously. A bite-sized snack can be easily picked up and eaten as they move around. With small servings, it is also easy to offer a variety of flavours for residents to try. For optimal hydration levels, lidded keep-cups with straws, or sippy cups are ideal.
In her talk at the Lantern Conference at the end of 2019 Sandra discussed some of her tips to help mealtimes be successful and the innovative ways she's served food to people with dementia:
Mealtime success:
Create an atmosphere in the dining area which in all ways indicates a homely relaxing place to eat - read our article about the Butterfly Method of Care which explores this further.
Include residents with dementia in all aspects of the dining experience. Ensure they are comfortably seated, are given a menu and are allowed extra time to respond to questions as it may take them longer to process information.
If they require assistance with eating, carers should sit with them, eating a meal at the same time and communicating with them.
Meal presentation ideas:

Ensure all food is clearly recognisable as food - and cannot be interpreted as something which would not normally be on a plate.
For 'residents on the go' creating finger food which they can easily snack on as they move around can alleviate mealtime stress. Sandra suggests tapas style food works very well as it is bite-sized, and flavoursome. See some finger food recipe ideas to get you started.
For dementia residents on a pureed diet, Sandra has found placing a scoop of pureed food in an ice-cream cone to be surprisingly successful.
For all dementia residents, familiarity is one of the key ways to ensure mealtime success, so whatever can be done to help make a resident feel more at home, the more likely they will be to eat regular healthy food.