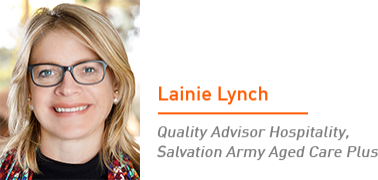 How the Butterfly Model of Dementia Care is improving health and wellbeing at Aged Care Plus.
One of the biggest challenges in Aged Care is malnutrition and dehydration among residents with dementia. Despite the best efforts of Aged Care staff and Chefs, dementia can affect a person's basic eating functions; things like chewing, swallowing and even remembering to eat and drink at all. 
When Salvation Army Aged Care Plus introduced the Butterfly Household Model of Care at two of its centres, the improvement in food intake and weight gain, among other positive behavioural and health outcomes for residents with dementia was astounding. The team involved in the trial have been recognised with numerous awards including Catering Innovation award at the recent Oscar Aged Care Hospitality Awards.

First developed in the UK by Dr David Sheard, the Butterfly Household Model of Care is based on a philosophy of recreating the home-life environment with familiar décor and domestic activities, instead of a traditional, more-clinical residential environment. 

Lainie Lynch, Quality Advisor Hospitality, Salvation Army Aged Care Plus said the guiding philosophy of this model of dementia care is Making Moments Matter. 

"Connecting people to the things they love doing, especially cooking, or sharing a meal with friends in a relaxed, home-like way sparks so much enthusiasm in our residents. They are more engaged in the dining experience, so they eat more. Best of all, our residents are eating better and gaining weight so they experience many health and wellbeing benefits as a result," said Lainie.

In a Butterfly Home, every aspect of the centre is set up to look like a person's home rather than a residential clinical facility. The dining table is set with tablecloth, napkins, plates and cutlery.

"I've spent lots of time in second-hand shops finding old furniture and common household items like hat stands, egg beaters and buffet cabinets. The visual cues of old-style kitchenware and tableware help residents feel at ease and recognise it's meal time. So even if they don't feel a sense of hunger, the sense of smell, sight and touch inspires them to eat," Lainie explained.

Aged Care Plus Staff focus on individual needs rather than tasks and routines, especially when it comes to meals, which are a thoroughly communal, person-centred affair.

"Our staff don't wear uniforms or engage with residents in a clinical way. Staff and residents cook and eat together, just like a family would. Food is placed in serving bowls in the centre of the table and shared around, rather than served as individual portions on a plate," added Lainie.
Residents are encouraged to be involved in menu planning, recipe selection and even food preparation. With help from staff, residents can whisk, stir and measure ingredients. Everyone has been encouraged to pass on their favourite recipes to the catering staff. The response from residents and families was so enthusiastic, these recipes are featured in the centre's dedicated cookbook.

Visiting family and friends are encouraged to relax and eat with their loved ones too. Both the frequency and duration of visits have increased as a result.

Since the Butterfly Household Model of care was trialled at two Aged Care Plus centres in the ACT and Queensland, Lainie Lynch and her team have been excited by the positive results:

There has been a 25% improvement in residents' pain with average pain scores reduced from 6.5 to 2.9
33% improvement in healthy BMI; 85% residents have normal to high BMI due to improved food intake
85% reduction in falls amongst residents
100% reduction in expressive behaviours amongst residents
33% reduction of those requiring psychotropic medication
Staff engagement levels report good levels of well-being

The sense of touch is key to engaging residents with dementia as textures can evoke past memories and emotions. "We get residents to feel different textures and items that connect them to their memories. For example, we have balls of wool they hold to evoke memories of a favourite pastime or item of clothing. Instead of just listening to music, we give them musical instruments to play. Residents can help cleaning staff with some tasks like washing if they enjoy cleaning or just like having a job to do," she added.

By involving residents in a practical, meaningful way in all activities, they gain a strong sense of purpose and value. "The difference between residents sitting alone, passively watching staff compared with actively being involved in every activity is amazing. You can see the emotional connection, even if just for a moment. Making Moment Matter is about caring for the whole person, giving them a chance to feel valuable, rather than just meeting their physical needs," Lainie said.

The Salvation Army is confident the positive health outcomes demonstrate the effectiveness of the model of dementia care and should become the new standard practice throughout Australia and the world. The organisation aims to share its expertise and introduce this model to other residential Aged Care centres to reshape the future of residential dementia care.