Everyone loves a birthday party no matter what age they are. Bring family, friends and your residents together to celebrate birthdays with simple, fun event ideas.
Making it to your eighties, nineties and even 100 is a major milestone that deserves a special treatment. 

Decorate!

It doesn't take a lot to transform a dining area from the everyday and give it a festive update. 
Bright and colourful decorations, birthday themed paper plates, cups and straws, and a Happy Birthday banner is an inexpensive way to create a cheerful event.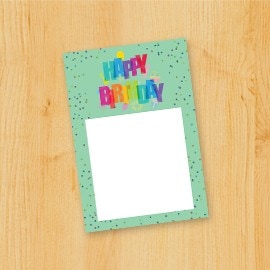 Menu templates
Highlight the birthday guest of honour's favourite dish on a celebratory menu card!

Download now
Table talkers
Add to the celebratory mood and decorate the tables in your dining room with cheerful Table Talkers.

Download now
If you want to go the extra mile to delight your birthday boy or girl, ask him/her or their family for a few photos of their previous birthday celebrations or just their life's happy moments to create a special collage to put on the wall or make into a personalised birthday poster to display on the day. 
You can create and deliver invitations to other residents to build excitement for the event.
We spoke to Maria Garey, the Recreational Activities Officer at Avalon House in Sydney about how birthdays are celebrated there.
"We have individual birthdays where we make the birthday boy or girl feel very special. From decorating their room to making cards from all the other residents, we make sure everyone knows whose special day it is. They get to choose their favourite meal and of course Henry our Chef always makes a cake."
"We also have a monthly celebration where everyone gets together and anyone who has had a birthday during the month is celebrated again. All the staff sing happy birthday and we take photos to mark the occasion."
Party Games

You're never too old to play games and time honoured activities such as Pin the Tail on the Donkey, Pass the Parcel (filled with tasty sweet treats) and musical statues will have everyone in high spirits in no time.
Create a photo booth with novelty items such as wigs, hats, and outrageous sunglasses and start a fun birthday photo board in your dining room, which you can keep adding to.
There must be treats!

While a birthday cake is always a must, visitors and residents alike will always welcome additional sweet treats. 
Desserts are always a favourite with residents and their families.
Look for birthday dessert recipes that are inspired by traditional favourites which can be incorporated into a morning or afternoon tea birthday celebration. 
These are some quick and easy-to-prepare ideas for extra birthday treats: 
Raspberry Swirl Trifle
Everybody loves a trifle! This soft textured dessert is suitable for almost all diets. The ingredient list is simple and includes frozen berries, cream, pinwheel sponge and Carte dOr Pannacotta Dessert Mix. Trifle desserts look extra special when layered carefully and served in glasses. 
Chocolate Mousse

Yum! Chocolate mousse is always a crowd pleaser. Using Carte d'Or Chocolate Mousse Dessert Mix, it is simple to prepare and easy to eat. Serve your chocolate mousse dessert in glasses or add an interesting twist by dishing it up in waffle baskets. 
Pineapple Cream Sponge Cake

Topped with cream and evoking a formal, high tea feel, pineapple cream sponge is extra-delicious when served with a hot cup of tea or coffee. Using Carte d'Or Creme Anglaise, tinned pineapple and fresh sponge cake, this can be prepared in individual portions or presented as a large birthday cake before being sliced and served. 

Oreo Cheesecake

Recipes like this will make you wish it was your own birthday. A mouth-watering treat, this cheesecake is easy to prepare from an ingredient list of cream cheese, biscuits, cream, unsalted butter and Carte d'Or Pannacotta mix. Serve with berry coulis or fresh fruit and light a candle for the guest of honour.