When many of your residents were younger, picnics were all the rage. Popular with families they were often events where family and friends came together to celebrate a birthday or simply enjoy each other's company in a beautiful outdoor setting.

With spring upon us and the weather already warmer, evoke fond memories for your residents by creating a picnic event at your place.
Host an indoor picnic event
While sitting on a rug on the ground may not be practical for an aged care dining experience, it is not difficult to create the mood of a fun picnic surrounded by nature.
Ask residents to help by having them to talk about picnics they went on when they were younger. What food did they eat, where did they go, and who was with them?
If your facility has an outdoor dining area, all the better but for those residents who prefer to eat inside, here are some tips to bring the picnic indoors (but not the ants and bugs!).
Nothing says picnic more than a blanket – use colourful tablecloths on the tables to invoke the relaxed and colourful feel of a picnic
Big bunches of flowers, and leaves will help to freshen up the dining area and bring nature inside or have residents help with the decorations by making paper flowers prior to the event
Add mismatched cloth serviettes or patterned paper napkins
If the day is warm, open the windows and let some fresh air flow in
Play a recording of nature to set the right atmosphere - try this Spotify Birds in the Forest playlist
While traditional picnic games such as cricket, or soccer probably won't work with the elderly, you can finish your event off with some simple activities such as card games, charades or a good old fashioned afternoon nap. 
Menu inspiration
Picnic food is wonderfully versatile – almost anything goes – however there are some foods which are universally found at every picnic – chicken and sandwiches (often together).

Another key to a successful picnic spread is easy-to-eat finger food – our finger food recipes cater to all tastes! This free download has plenty to offer.
And for those who prefer something more substantial, try some of the following:

A fresh take on an old staple, this meal has a spicy crust over tender chicken and can be pre-sliced for easy eating.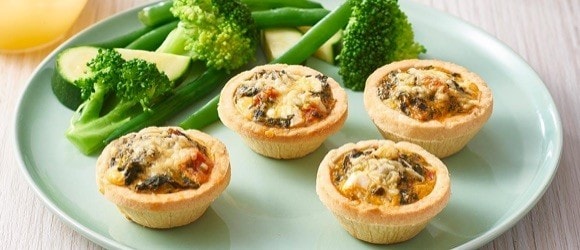 Another picnic favourite is the quiche. This recipe combines iron-rich spinach, protein-filled eggs and cheese, and tomatoes in a delicious pastry crust.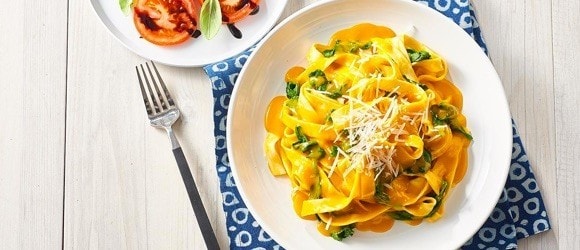 Soup doubles as sauce for this creamy and filling pasta dish. Serve with a side salad or bread.
Add jugs or glasses of lemonade, lemon water and ginger beer or iced tea as a refreshing way to keep everyone hydrated.
Download our free Picnic Days menu template and table talker