KNORR Thai Sweet Chilli Jam 920 g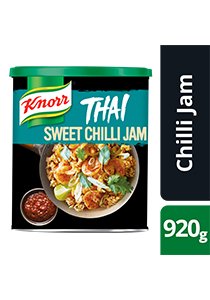 KNORR Thai Sweet Chilli Jam 920 g
A traditional Thai sweet chilli paste made with quality ingredients such as fresh shallots and garlic, fried and blended with chillies and shrimps to produce a full flavoured aromatic ingredient that is perfect with vegetables, meat or seafood. Add to stir fries, marinades, dressings to create authentic Thai dishes.
More Product Information
Article number:

21114816

•
All product information
Benefits & Allergen Information
Bain Marie Stable

No Artificial Flavours

Freeze Thaw Stable

Halal Certified

No Preservatives

No Artificial Colours
Nutrition Information
Download product information..
Typical values
Energy, including dietary fibre (kJ)
Carbohydrate, total (g)
Sodium (mg)
Protein (g)
Cholesterol (mg)
Dietary Fibre (g)
Fat, total (g)
Saturated fatty acids, total (g)
Monounsaturated fatty acids, total (g)
Polyunsaturated fatty acids, total (g)
Calcium (mg)
Iron (mg)
Preformed Vitamin A (retinol) (ug)
Vitamin C (mg)
Additional Benefits
Bain Marie Stable
No Artificial Flavours
Freeze Thaw Stable
Halal Certified
No Preservatives
No Artificial Colours