Valentine's Day in Aged Care is a chance to celebrate togetherness and evoke some of the romance of yesteryear. Bring joy to the table on the 14th of February with some of these ideas:
Cook with heart

Use heart-shaped cookie cutters and moulds. Even mashed potato can be romantic with the help of a few utensils and pink food colouring.
Create heart-shaped iced biscuits or heart shaped watermelon.
Use icing sugar and a stencil to add romance to simple toast and jam.
Add sweet messages for those who are missing a loved one on Valentine's Day.

Add the colours of love

Red, pink and white - jazz up the dining room with table cloths, streamers, and balloons to highlight the theme. Flowers such as roses, carnations and daisies all symbolise love and add to the sense of occasion.
As a finishing touch - place individual roses or chocolates in red foil at each place setting.

Cupid's desserts


Dessert has always been symbolic of Valentine's Day. Our Aged Care Specialist Chefs have put a Valentine twist on some traditional desserts:
Be Mine Bavarois
More than a mousse, with the added deliciousness of strawberries, this is a simple, sweet Valentine's finale!

Lovers Lamington Parfait
Residents will love this perfect pairing of lamington, raspberry coulis and coconut.

Cheesecake Passion
Cheesecake has always been a favourite, but this fruity variation is something to be truly passionate about!
Simply Sweet Cherry Ripe
This classic combination of smooth chocolate and the best of summer cherries is marriage made in heaven. With the added tang of lime juice, the crunch of coconut and chocolate flakes, it will be a favourite.

Create a special menu

Make the dining room feel more like a restaurant with a menu printed as a Valentine's Day one-off.

Use your regular fare and create a stylish menu to evoke memories of wonderful meals with partners.

Play it again, Sam

Music is the language of love! Some well-selected tunes will add a romantic feel to the evening meal on Valentine's Day. From Frank Sinatra to Ella Fitzgerald… there are many classics to choose from.

Making Valentine's Day special can be so simple. Small touches go a long way to create a memorable afternoon or evening and we hope your residents love it.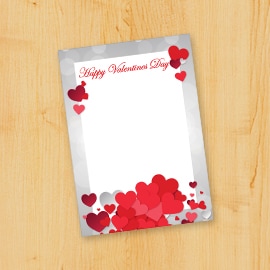 Create a special menu
Share the love with your residents. Download a free Valentine's Day menu poster.

Download now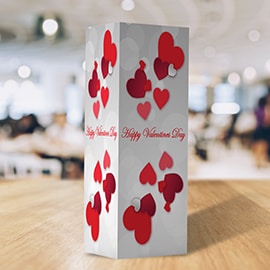 Display a special menu
Show you care. Make your dining setting special. Download a free Valentine's Day table talker.
Download now