Edited on Monday, 5ᵗʰ April 2021
Mother's Day is a special time. At an aged care facility it is also often Grandmother and even Great-Grandmother's Day as several generations of family come together.
Like Christmas and Easter, this day means an influx of visitors, many of whom are young children.
The following ideas will help mark the occasion while accommodating additional guests.
Morning Tea

For those who show up early, having extra supplies at the tea station will make the morning go smoothly. Tea bags, coffee, plates, serviettes and spoons will need to be well stocked. It is a good idea to have someone on standby to clean up any spills or mess throughout the morning.
Some families will bring their own cake to celebrate, but have some additional sweet and savoury delights to make sure everyone feels the day is special.
Supplying fruit juice and filtered water will keep children happy - many parents nowadays prefer it to be watered down to reduce the sugar content.
Lunch

Make lunch simple and inviting with sandwich platters that can be prepared ahead of time. Offer a few filling selections such as ham, cheese and salad, curried egg or chicken and mayonnaise and they are sure to disappear.
Fruit platters, mini quiches or some cracker and dip selections can boost the food supplies and add variety to the menu.
Should the event extend to afternoon tea, have some extra biscuits or mini-muffins on standby for the guests who are still enjoying their visit.
Extra touches

Of course chocolates are always welcomed - in particular think of those who do not have anyone visiting and consider a small treat as a gift and acknowledgement. You could even set up a table for residents whose family are far away so that they can enjoy each other's company.
Take into account visiting children and accommodate them with some colouring books and pencils or if possible an outside space for them to run around without disturbing your residents.
Finally, Mother's Day is synonymous with flowers, so a few well-placed fresh bunches will be appreciated as a way of marking the occasion. Lilac symbolises the love between mother and child, while irises represent affection and warmth. Chrysanthemums are traditionally given on Mother's Day, however any colourful bouquets will make the day feel special for all.
Wishing you all a wonderful and happy Mother's Day!

Meal Inspiration for Mother's Day: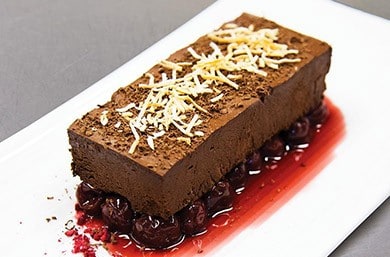 Indulge in this chocolate and cherry delight to round off a memorable Mother's Day.
Mother's Day Inspiration
Download your free Mother's Day Inspiration bonus feature article today and ring in the tradition in style!

Download now