Posted on Thursday, 20ᵗʰ October, 2022
Sometimes, all people need is some light-hearted fun. What better way to start the silly season than putting on a Mad Hatter's Tea Party for your residents.

The Mad Hatter's Tea Party is based on a scene from the Lewis Carol classic "Alice in Wonderland", with everyone from Royalty to Rabbits and
of course, Alice, attending.

For inspiration, watch the 2010 movie, look here to find a streaming service.

Three things all Mad Hatter's Tea Parties must have:
1. The most important part of the event is a hat, of course!
The wonderful thing about hats is, almost anything can be a hat — a scarf, a cap, a beanie, or any crazy creation you can pull together.

Having your kitchen staff, carers, food service team and dining assistants all joining in will really get everyone in the mood for a fun and creative event.

DIY hats can be made using cardboard, sticky-tape and imagination. Add flowers, fabric and fake jewels or anything else you can think of.
Use Pinterest to get fresh ideas.

OpShops and $2/bargain shops are also a good source of dress-up style headwear, if you can organise a shopping trip for your residents prior to the event.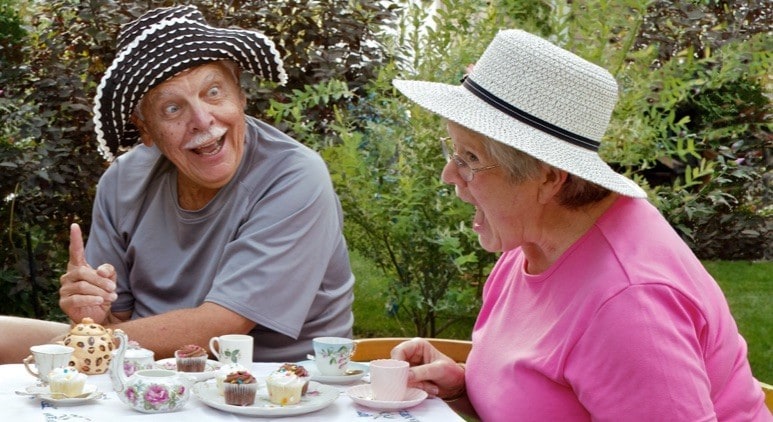 2. A colourful and decorated dining area
Deck out your dining area with streamers and bunting, colourful tablecloths and serviettes. Add vases of bright flowers to create an atmosphere of fun and craziness. You can use these mad menu templates and table talkers to add even more colour to the room.

If you have the space, set up one long table otherwise keep your dining space accessible and easy for residents to move around and socialise during the party.

If the weather is warm, why not take the whole event outside?
3. A delicious spread of all kinds of food.
The madness keeps going when it comes to the menu — you can serve literally anything you like at a Mad Hatter's Tea Party.

This means you can mix and match sweet and savory, breakfast and dessert. The madder, the better.

One of the not-so-mad benefits of creating a varied spread for your tea party is there is something to suit everyone — and if everything is kept to finger-food, bite-sized portions, people are more likely to eat more, and try new things.

For those who find sitting to eat a challenge, a grazing-style layout means they can eat standing or walking.

Our maddest food suggestions are:
Mad Minis — scrolls, quiches & sandwiches
And of course, no matter what people like to drink, serve it in a tea cup!

To keep everyone engaged and enjoying the event, you can incorporate some entertaining activities:
Set up a photo booth or a corner with a nice background and decorations to take photos against so residents can share the images with family and
friends
Run a competition for the maddest hat(ter)s
Have kitchen staff dress up as Alice in Wonderland characters
Events and social occasions are important for your residents to build relationships with others and stay social. When incorporated with a meal, it also helps people enjoy the dining experience. Read more about the importance of social events here.
Download free mad hatter's tea party menu template and table talker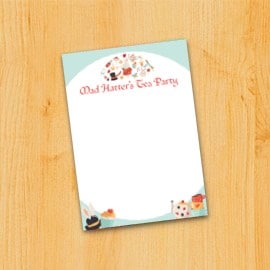 Menu Template
A Mad Hatter's Tea Party needs an appropriately themed menu template. Download this crazy and colourful template that can also double up as an invitation to the party.
Download now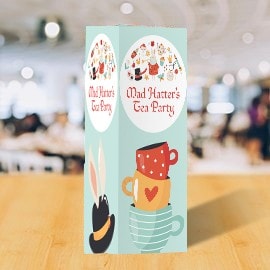 Table Talker
Keep things curioser and curioser for your Alice In Wonderland-inspired event with these vibrant table talkers. Download for free and set the mood for a good time.
Download now