Posted on Tuesday, 23ʳᵈ May, 2023
Host an afternoon tea or lunch to mark the King's Birthday holiday for your residents.
After Her Majesty Queen Elizabeth passed away in 2022, the Commonwealth transitioned to being overseen by King Charles III, and the June long weekend in Australia is now in honour of the new King.
What King Charles Loves to Eat
According to a few different sources, King Charles is a fan of simple, hearty foods such as cheesy baked eggs and shortbread. He reportedly enjoys a boiled egg and salad and is partial to some cheese and biscuits at the end of his meals.
For dinner, Charles is said to favour organic lamb with a side of wild mushroom risotto. He chooses Darjeeling tea, served with milk and a dash of honey, which is something of a tradition at Buckingham Palace.
Celebrate the King's Birthday
Eggs are an excellent addition to the menu for lunch, dinner, or afternoon tea at an aged care facility because they tend to be easy to eat and digest, as well as being a good source of protein.

For lunch, serve a quiche (the preferred food for HRH's Coronation Feast), a frittata, or even a dish similar to Charles' baked egg favourite.

Check out our recommended selection of egg and quiche recipes for inspiration.

Egg and salad sandwiches with mayonnaise will be popular; you can go with a more traditional cucumber variety or put together some Corned Beef Reuben Sandwiches, which will evoke memories of yesteryear.

For a high tea-style celebration, shortbread or other soft biscuits can be added to the table, or you can go with a Welsh theme and celebrate the former Prince of Wales' connection to its neighbouring country. There are photographs of Charles and Camilla visiting a bakery in Wales and trying their hand at flipping 'Welsh Cakes', which are similar to scones and served with jam and cream.

Other traditional English sweet ideas include:
More King's Birthday Meal Ideas
An evening celebration can include one of Charles' favourite dishes such as a lamb roast or a mushroom risotto, or try another lamb option that would be popular with residents, such as Lamb Meatloaf Wellington.
For a more general British theme, choose from the following:
Decorations
The Union Jack is a good place to start for decorations, and you can deck tables out in red, white, and blue.
You could also evoke the interior of a high-class British abode from Charles' heyday with some floral motifs, elegant serviettes, and vases of flowers. Your 'guests' are likely to appreciate some British classic tunes from the war and post-war eras playing in the background.
Facts about King Charles III
Charles' real birthday is on November 14th, 1948, but Australia will keep the public holiday on the second Monday in June.

The King became the Prince of Wales when he was nine and can speak Welsh. He studied history at university, is a qualified pilot, and is also known to partake in landscape painting. He is also quite musical, having played the cello in the Trinity College Orchestra.

Some stories claim US President Nixon attempted to set Charles up with his eldest daughter, Tricia, back in the 1970s. He also dated his eventual wife Diana's older sister.

The Prince Charles stream tree frog was named after the monarch to recognise his work in the area of rainforest conservation.
Download free King's birthday celebration menu template and table talker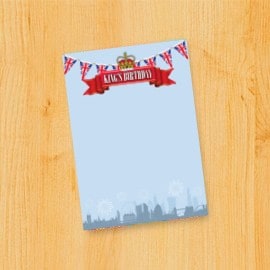 Menu Template
Create a regal menu fit for a king! Celebrate King Charles III's Birthday with these royal menu templates.
Download now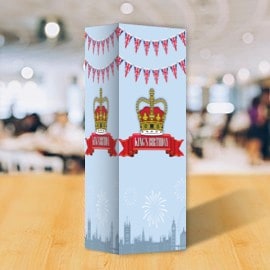 Table Talker
Engage your residents in lively conversations about King Charles III and his fascinating preferences with these regal table talkers.
Download now