Posted on Tuesday, 21ˢᵗ February, 2023
St Patrick's Day has been celebrated since the early 17th Century as a way of honouring the most popular patron saint of Ireland, Saint Patrick.

The day falls on 17th March during the Catholic celebration of Lent, but fasting is paused so people can celebrate.

The 'holiday' grew in global popularity with the increase in immigrant populations, especially in America. Over the years, St Patrick's Day evolved from a religious occasion to a non-secular festival of all things Irish.

According to Wikipedia, the Australian embassy in Dublin says 30% of our population claims some degree of Irish ancestry. This seems high, but it justifies the decision to celebrate. If your residents don't have Irish backgrounds, it's likely your staff will, and everyone is likely to know someone who is of Irish descent.

Today, St. Patrick's Day is celebrated by many people all around the world, as a joyous celebration of all things Irish.
Bring your residents together for a Lá Fhéile Pádraig sona duit (a Happy St Patrick's Day).
Decoration ideas to make paddy's day memorable for your residents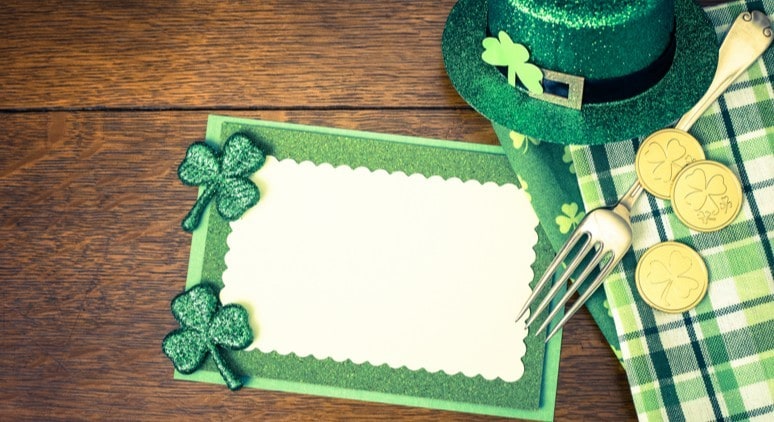 Green and white are the widely accepted colours to mark St Paddys. According to legend, Saint Patrick used the shamrock to explain the Holy Trinity as he converted the population to his preferred religion. This is part of why this little plant is the symbol of the day.

It should be easy to find green or shamrock-covered bunting or tablecloths in stores as the day draws close.

While the concept clashes with the traditionally religious theme of the day, using leprechaun motifs is also a way to acknowledge Ireland's history and culture.

If your facility is linked to the church, you may also want to incorporate the Celtic cross. Celtic knot motifs further represent Ireland's heritage.

The Irish are known for traditional sayings and blessings. For example:
'Céad Míle Fáilte' means 'One hundred thousand welcomes' in Gaelic
Lá Fhéile Pádraig sona duit' means Happy St Patrick's Day
'Sláinte' (pronounced Slan-Tcha), is a way to toast to good health.
Banners with these words can be a way to enhance your Irish theme.
Menu ideas for St. Patrick's Day
The obvious choice for St. Patrick's Day would be a traditional dish such as the Irish Stew, made from lamb, potatoes, onions and parsley. Potatoes and other vegetables can be served mashed to suit dietary needs.
Here are few recipes to add more flavour to this paddys day:
Despite the warm weather, soup is always a popular choice with residents. This classic Pea & Ham Soup is hearty and the right colour!
A spicy twist on a traditional Irish stew, be generous with the coriander leaves for added (green) colour.
Another option is to serve a savoury pie with gravy. Some chefs swap pastry for a breadcrumb topping, which may be easier for those on texture modified diets. Traditional 'bangers and mash' is also popular. Add peas for some green.
To give this tried-and-true favourite a St Patrick's Day flavour, add green colouring to the potato mash topping - and include extra peas.
In terms of dessert, have some fun with the colour green and serve jelly. If serving pints of Guinness is not suitable for older residents, a Guinness Cake or dessert with a Baileys flavour could be created to match the theme of the day.
Just about any dessert can be greener with some food colouring - get creative with:
Green cream makes this a St Patrick's Day must - and sponge cake is always a crowd pleaser. Add mint ice-cream or apple gelato as a side.
Again, pannacotta is easily coloured with food colouring. Being mostly dairy, it is also a great way to deliver more protein to the meal.
Shortbread in the shape of shamrocks with green icing will look nice on the table and be relatively easy to eat and digest.

The Irish are fond of a blessing - download our Irish Blessing and Sayings Menu Template and Table Talker here, and place them on your dining tables.

Top 'o the day to you all!
Download free St. Patrick's Day menu template and table talker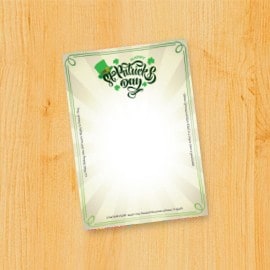 Menu Template
This St. Patrick's Day, download this Irish-inspired, shamrock-adorned template to let your guests know what to expect.
Download now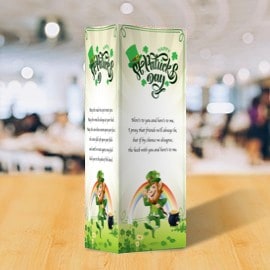 Table Talker
Express all things Irish with these St. Patrick's Day inspired table talkers. Download to set the tone for your celebrations.
Download now