KNORR Gluten Free Rich Brown Gravy 2kg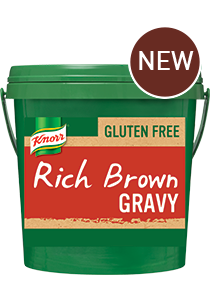 Preparation
Whisk 100g of Knorr Gravy mix into 1L of hot water. Place on the stove and bring to boil stirring continuously. Reduce heat and simmer for a further 2 minutes.
Storage
Replace lid tightly. Store in a cool, dry place.
Benefits
Classic Gravy Taste. Gluten Free.
Nutrition Information
All quantities in nutrition table are average values.
Description
Powdered sauce mix for Rich Brown Gravy that is also Gluten Free. With classic gravy taste it delivers perfect results every time for your: pour over sauces, casseroles, pies etc. For inspiration tips and ideas visit https://www.unileverfoodsolutions.com.au/chef-inspiration/trends-on-plate/classics-reinvented.html
Download product information..